| | |
| --- | --- |
| User Role Availability | ✓ Project Owner ✓ Project Administrator |

Custom Form Challenge is a multi-field Challenge, where Admins can put together different field types. To create:
Select a Topic that you wish to create the Custom Form Challenge in.

On the Topic Manager page, locate and click on

.
Click on

Challenge

in the pop-up panel.

You will be directed to select from a range of Challenge Types.

Select CUSTOM FORM CHALLENGE.
Go on to insert the Challenge information - icon, title, and description (learn more here).
Under "Fields", create at least 1 Field by:

Selecting a Field Type from the dropdown -

text, whole number, number (with decimal places), date, time duration, or multiple choice.

(learn more about each below)
Insert a Field Title (e.g. a question you would like to ask)
Insert the points to award when the Field is completed
Selecting or deselecting (specific to each field)

You will also see several other options:




After you are done setting up the Challenge, click .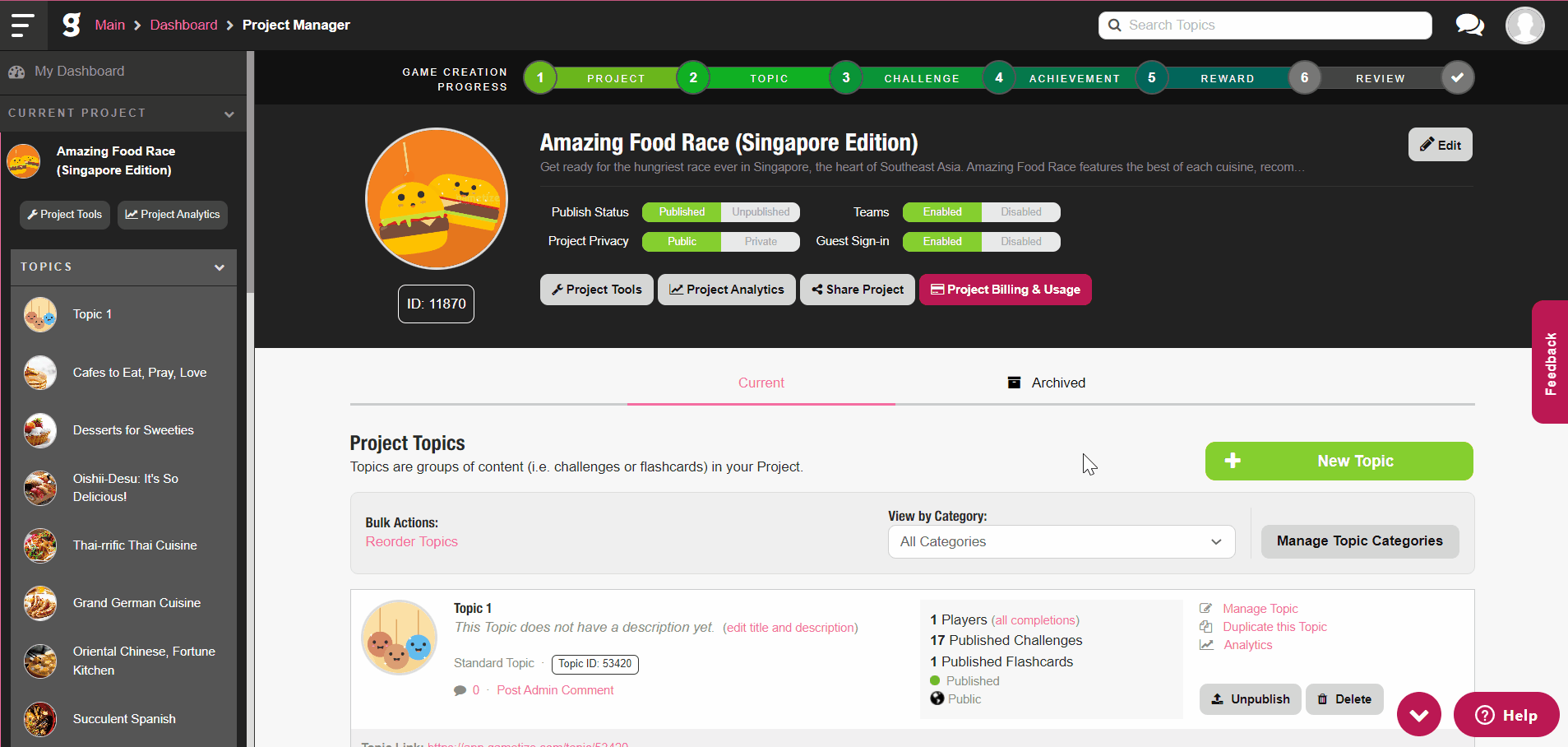 Key highlights about Custom Form Challenge
(1) There are 6 field types to choose from:
Text:

text-based answer; minimum 2 characters; no upper limit.

Whole Number:

e.g. 1, 100, 1033. Negative number is not allowed.

Number (with decimal places):

with no limit to the number of decimal places, e.g. 1.1, 2.22, 3.33.

Date:

select a date, within a date range (if any). As the Admin, you have the option to limit the date range you would like the Players to select from.

Time Duration:

select time in 1-hour and 5-minutes interval

Multiple Choice:

select one from the list of options. As the Admin, you can create unlimited options and assign different points to each.
(2) There are 3 photo upload settings under "More Settings".
Make photo upload optional:

the option to upload a photo is present but not required for Challenge completion.

Make photo upload mandatory:

the option to upload a photo is present and is required for Challenge completion.

Photo upload is not required: the option to upload a photo is absent

NOTE: Avoid changing the options within the Field or Option Title after completions have been made, as this may cause inaccuracies to the data.
---