| | |
| --- | --- |
| User Role Availability | ✓ Project Owner ✓ Project Administrator |
As you navigate to complete a Custom Form Challenge for a Player, you will see 2 options:
For a Single Player
Insert the email address of the Player whom you wish to complete the Challenge for. It has to be an existing Player in the selected Project.

Depending on the field types you have created, you may insert the values accordingly. HOT TIP: Hover over the tooltip to learn about each field type.

For text field: fill in a text answer (no character limit)
For whole number field: insert a whole number (negative number is not accepted)
For whole number (with decimal places) field: insert a whole number with decimal places (no limit on the number of decimal places)
For date field: click on the date selector and pick a date
For time duration field: select the hours and minutes from the dropdown
For multiple-choice field: select an option from the dropdown

You may upload an image, depending on the photo upload setting you have set.

Click to complete the Challenge.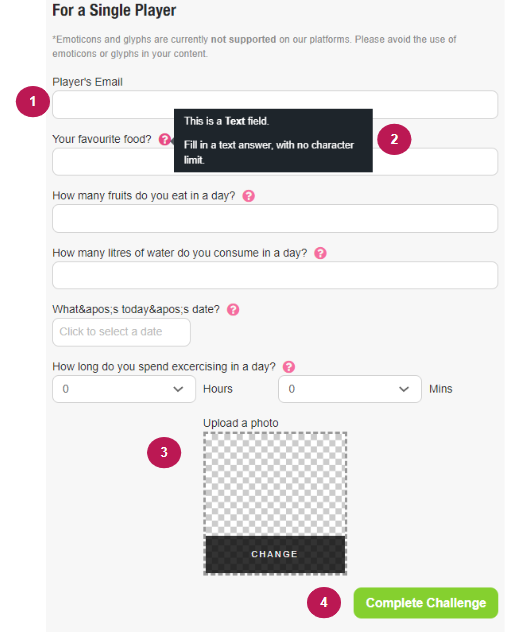 For Multiple Players
Before you begin, you would need to create an excel spreadsheet in the following format

Header row

is required - 1st column:

"Player's Email"

; the subsequent columns in the order of the fields you have created

1st column:

Players' email addresses

(mandatory)

Subsequent columns: depending on the field types you have selected. To learn about the dos and don'ts when inserting the respective values, click on. Alternatively, below are some guidelines.
Last column:

Image URL

(depending on the image upload setting)

Look for the attachment at the bottom of the page for a sample excel file.
Field Types
You may insert...
Text

Any

text

, including alphabet letters, numbers, and special characters, with no character limit.

Whole Number
A whole number, e.g. 1, 100, 1033. Negative numbers are not accepted.
Number (with decimal places)
A number with decimals, with no limit to the number of decimal places, e.g. 1.1, 2.22, 3.33. Negative numbers are not accepted.
Date
A date, in the format: yyyy-MM-dd. E.g. 2019-06-25
Time Duration

A duration, in any of the following 3 formats

MM:SS (e.g. 10:53),

HH:MM:SS (e.g. 127:47:00), or

A numerical value in seconds (e.g. 93841).

* Maximum values for MM and SS are 59. No maximum value for HH.

Negative values are not accepted.

Multiple Choice
A text answer which corresponds to at least one of the field options created -

an exact match

.
---