As you navigate to complete a Video Challenge for a Player, you will see 2 options:
For a Single Player:
Insert the email address of the Player whom you wish to complete the Challenge for. It has to be an existing Player in the selected Project.

Click to select a video to upload.

(optional) Insert text under

"Descriptions/Comments (if applicable)"
Click

to complete the Challenge.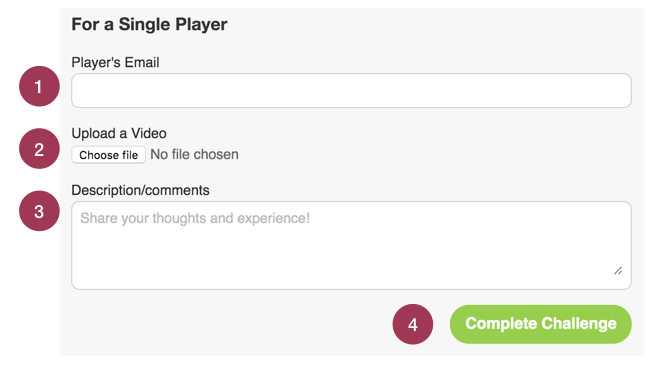 For Multiple Players:
Before you begin, you would need to create an excel spreadsheet in the following format

Header row is required - 1st column: "Player's Email"

; 2nd column:

"Description/Text"

; 3rd column:

"Video URL"
1st column: Players' email addresses

(mandatory)

2nd column: Description/Text

(optional)

3rd column: Video URL

(mandatory) - video has to be saved as .mp4.

Look for the attachment at the bottom of the page for a sample excel file.
---