Team Bonus points are awarded to all Team members of a Team the moment the defined number of Players in the Team completed the Challenge, on top of the points assigned for completing the Challenge.
NOTE: These bonus points are given based on the activities of all Team members in a Team - different from Extra Points.
To create team bonus points for a Challenge (let's assume that we are creating a new Challenge):
Go on to create a new Challenge.
Remember to assign points to a Challenge - all Players will receive these points.

Then, go to the section on

Team Bonus Points (optional).

Insert the

number of Players per Team who must complete the selected Challenge to receive the bonus points.

NOTE: Each Player can only be awarded Team bonus points from a selected Challenge

once

, even after changing Teams. That is if a Player was already awarded team bonus points from a specific Challenge while in Team A, the Player will not be awarded team bonus points from the same Challenge again if changed to Team B.

Insert the number of

bonus points to be awarded to Players when their team fulfilled the criteria.

NOTE: You

cannot assign 0 bonus points

if the number of Players per Team to complete this Challenge is

greater than 0

.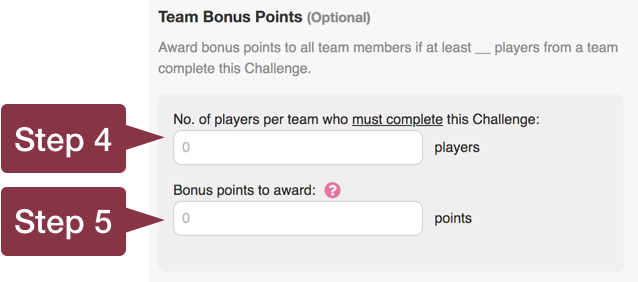 There are several key points to note when editing the team bonus points to a Challenge.
Unlike assigning points to a Challenge - for completions or votes which applies to all Players who have completed the Challenge or received votes, Team Bonus Points only apply to Players who belong to a Team.
---