Invitation to Topic is one of the five types of email templates available for customization via the Email Editor.
Go to the Email Template Editor.

Look for "Email Invitation to Topic", and click on "

Edit Template

" under the Actions column.

This opens up the source code of the Email Invitation to Topic and you can go on to edit.
You can preview the changes by clicking on the "Preview" tab.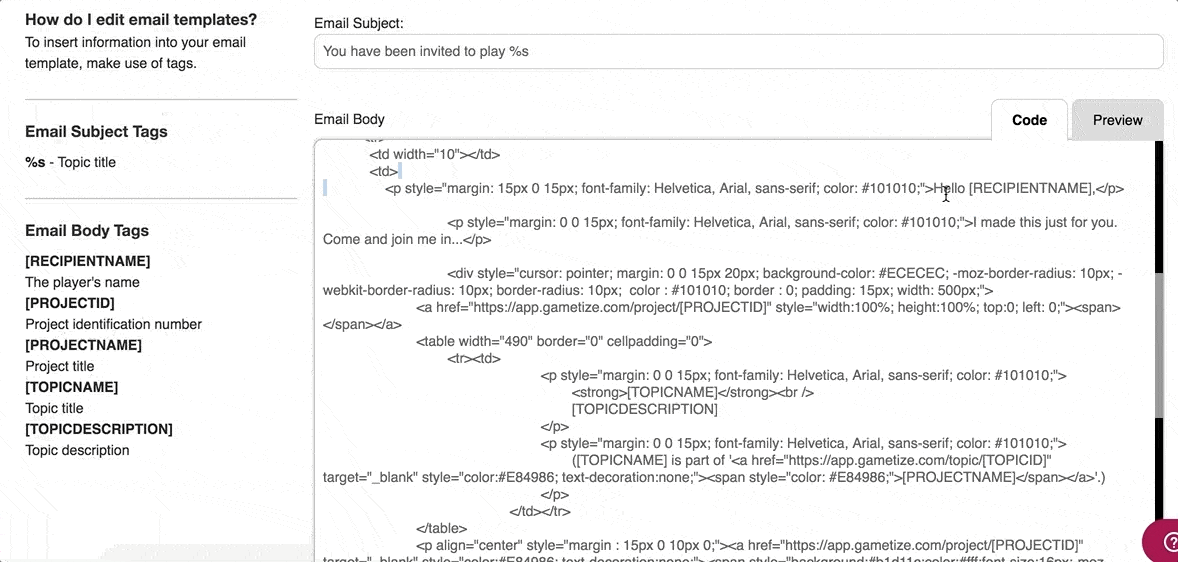 Inviting Players to Topic
Players have to have an existing Gametize account before you can invite them to the Topic.
What you cannot edit
There are the several portions of the source code in which you must not edit or remove. An easy way to find them is to .
Follow the steps above to open the source code of the email temple.
CTRL-F or CMD-F to look for the tags listed below.

%s
|

Topic Title

[RECIPIENTNAME]
| User's name
[PROJECTID]
|

Project identification number

[PROJECTNAME]
|

Project Title

[TOPICNAME]
|

Topic Title

[TOPICDESCRIPTION]
|

Topic Description
What you can edit
Below are the parts of the email subject and body that you can edit:
Email subject (the default says "You have been invited to play", followed by the Topic title)


Logo (the default is Gametize's logo)


Email greeting (the default says "Hello", followed by the Player's name)


Email body


Sign-off signature


Footnote and support email

(the default support email is

support@gametize.com

)


Social media links (the default links to Gametize's social media profiles)


---