As a Player, if you do not wish to provide an email address, you can log in as a guest. However, note that you can only do so on public Projects.
NOTE: How do you search for a Public Project?
Simply search for a Project ID or Project Code on app.gametize.com. Any Project that is searchable is a public one and you are free to explore.
To access a Project using Guest Login:
Go to any Project using the Player Web (app.gametize.com).
Once you are in a Project, click on at the bottom bar. You will be directed to the sign in page.
Click on the .
Insert a name you would like to appear in the Project and click on.

You will then be directed to the Project, with the name you have just inserted.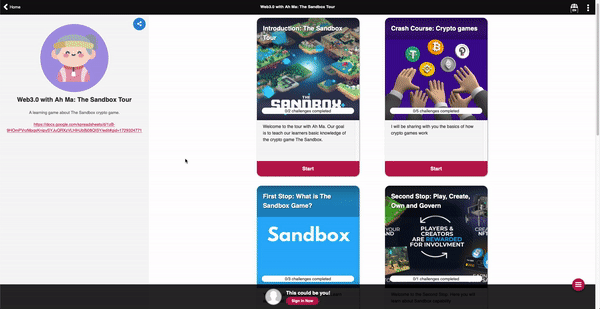 With Guest Login, you can:

Complete any Challenge available in Project

Comment on any Topic, Challenge or completion

Vote on any completion

Redeem Rewards

Appear on the Leaderboard

However, you are unable to:
NOTE: There are a couple of things to note when logging in Guest.
Unlike a Player with a legitimate account with an email address, a Guest account may not be unique.

You will lose your activities when you log out of the account or when the browser session expires.
---