Why is this happening?
Since October 2021, changes to regulations from the Reserve Bank of India (RBI) has impacted international retailers and services's ability to accept payments seamlessly from India issued cards. While the industry has been adapting to these changes, some types of payments, like recurring payments, will permanently see higher rates of payment failures moving forward due to additional authorization requirements.
In short, every renewal requires an additional step from you to authorize it.
What do I need to do?
If you are based in India, you need to authorize every recurring transaction (in our case, subscription renewal transaction) on your monthly/yearly renewal date.
Upon automatic renewal, you will receive an email alert with the subject "Action Needed: A payment requires your action for [YOUR PROJECT TITLE]" if additional authorization is needed for your renewal to proceed.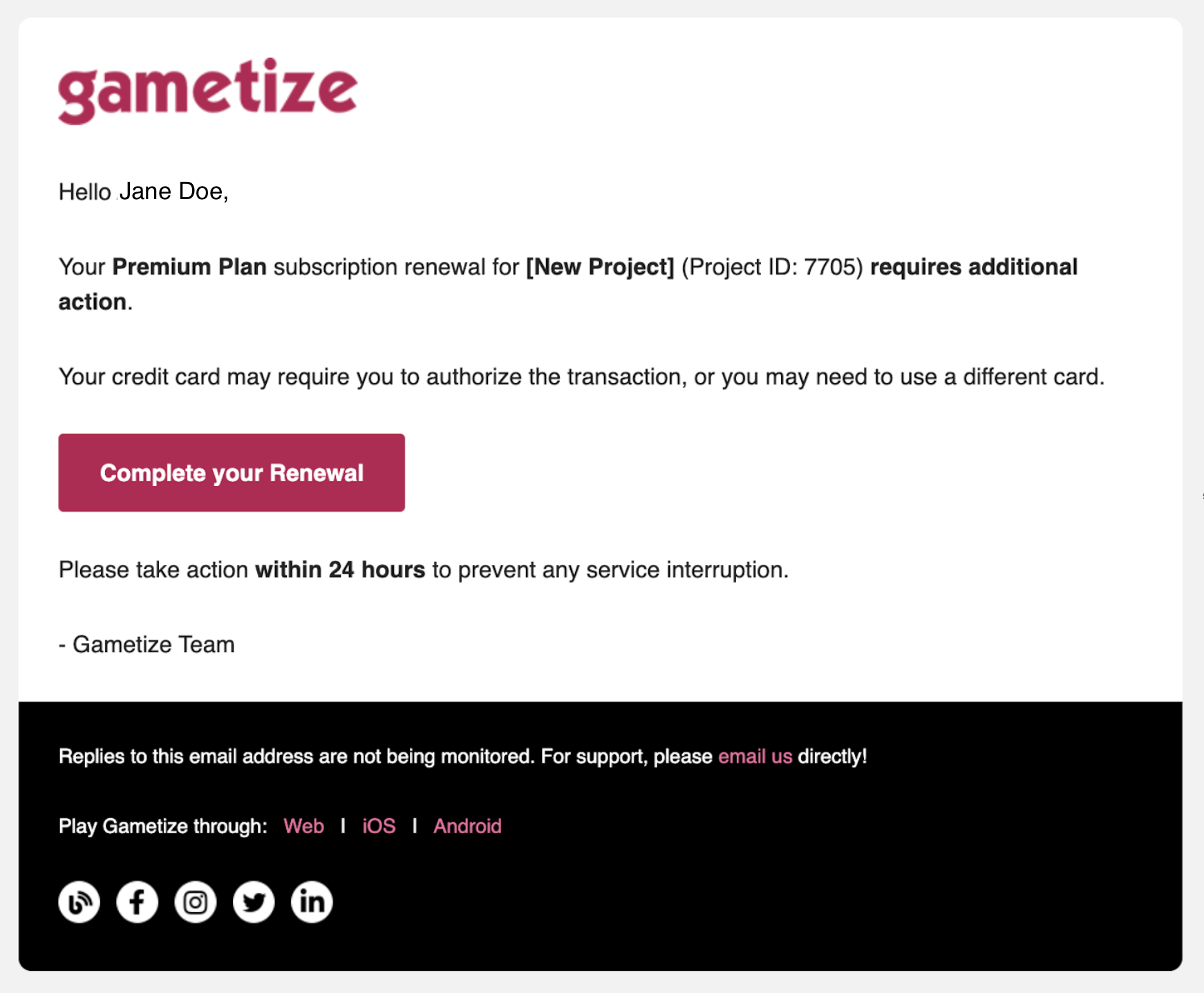 Click on Complete your Renewal in the email.
The link will contain the details of your renewal and guides you on how to authenticate the transaction. Usually this will involve generating a one-time password on your bank application, or your bank will send you a one-time password.
You will then be prompted to enter this one-time password to authorize the renewal transaction.
-----
Tip: If you are on a monthly subscription, you should keep a look out for this email every month and complete the authorization promptly to avoid any interruption to your subscription. Yearly subscribers only need to do this once a year.
What we have implemented to help you?
You can now purchase account balances on gametize.com to ensure your subscriptions continue seamlessly, as these account balances can be used to offset your renewal costs. We highly encourage customers based in countries where manual authorization is required for every renewal charge (e.g., India and Europe) to top up their account balances to avoid interruptions in their subscriptions.
For more information, you may refer to the support article here: Topping up your Account Balance
---