What are extra points?
You may want to reward the first 5 Players who complete a particular challenge, or a set number of players with the fastest fingers. Here is where extra points come in.
NOTE: These extra points are given to the Player the moment the Challenge is completed, on top of the basic points assigned to a Challenge.
How do I set extra points?
Let's assume that we are creating a new Challenge:
Go to the create a new Challenge screen.
Remember to assign the basic points to a Challenge (all Players will receive these points).
Then, go to the section on "Extra Points for Players (optional)".

Insert the

number of Players who will receive extra points for completing the Challenge.

NOTE: Extra points from a Challenge are given to

unique Players

, regardless of whether the Challenge is of single- or multiple attempts. That is, a Player can only receive Extra Points

from a Challenge once even for a Challenge that allows multiple attempts.

Insert the number of

extra points to be awarded to Players who complete the Challenge. The number of Players who will receive the extra points is as defined in Step 4.

NOTE: You cannot assign 0 extra points if the number of Players to receive is

more than 0

.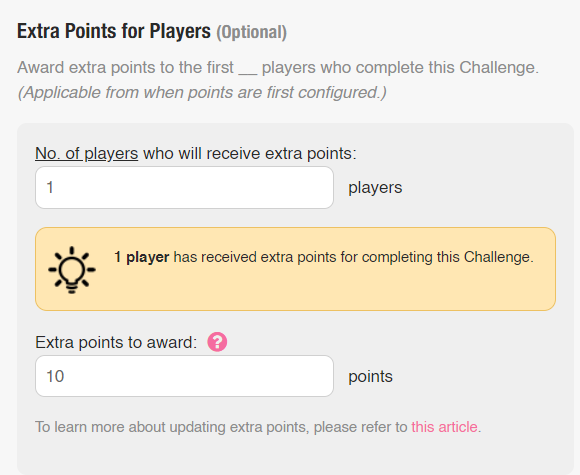 Unlike Assigning Points to a Challenge (which applies to all Players who have completed the Challenge), Assigning Extra Points to a Challenge allows you to give points to a selected group.
---