| | |
| --- | --- |
| Plan Availability | ✓ Premium ✓ Premium Plus |
| | |
| --- | --- |
| User Role Availability | ✓ Project Owner ✓ Project Administrator |
Home Buttons allow your Players to access the functions right from Project Home. On top of the default home buttons, you can add new buttons to direct your Players to the content you want them to view.
NOTE:
Including the default buttons, you can only have a maximum of 8 home buttons.
The maximum number of buttons may not be displayed properly on devices with a lower solution (e.g. when displaying the maximum 8 home buttons, a mobile device with a resolution of 1080 x 1920 pixels may have overlapping interface elements).
To do so:
Select a Project you wish to add new Project Home buttons.

Access the Project Tools. Under "General Tools", select "App Customizer".
Look for the section "Home Screen Buttons". If this is your first time here, you will see the default home buttons - Team (if enabled)

, Activity, Leaderboard, Rewards, Bookmarks and Support.

Click on to insert a new home button.
First, select to show or hide the 'Team' button. Note that the 'Teams' button is only available if teams are enabled.
Next, select a button type. The following types are available and what Players would see.

Achievements: Achievement available to be unlocked by Players
Activity

(default):

Challenge completions of Players in the Project

Bookmarks

(default):

Flashcards and Challenges bookmarked by Players

Leaderboard

(default):

Players ranking based on points earned

Players: a list of Players that are part of the selected Project
QR Scanner: a QR code scanner (Note: The QR Scanner is only available on our mobile app and it will not be available for our web interface.)
Rewards

(

default

)

: a catalog of available rewards

Topic: Flashcards and Challenges that are part of the selected Topic
Topic Category: Topics that are part of the selected Topic Category
Challenge/Flashcard: the Challenge/Flashcard profile
URL: any web link you wish to direct Players to (all web links have to begin with

https://

)
Support: a Support Email for your Players to contact you for inquiries
If you have selected "Topic", "Topic Category", or "Challenge/Flashcard", click

,

, or

to select the specific content from the dropdown.

NOTE: The selected content needs to be published first.
Then, edit the button name. If not edited, it will take on the default name.

NOTE: You cannot have duplicates of a button name for all button types.
You may add or edit multiple buttons at one go.
You will see the changes reflected in the devices previews.
Finally, click

(right-hand side of the page) to save and publish your changes.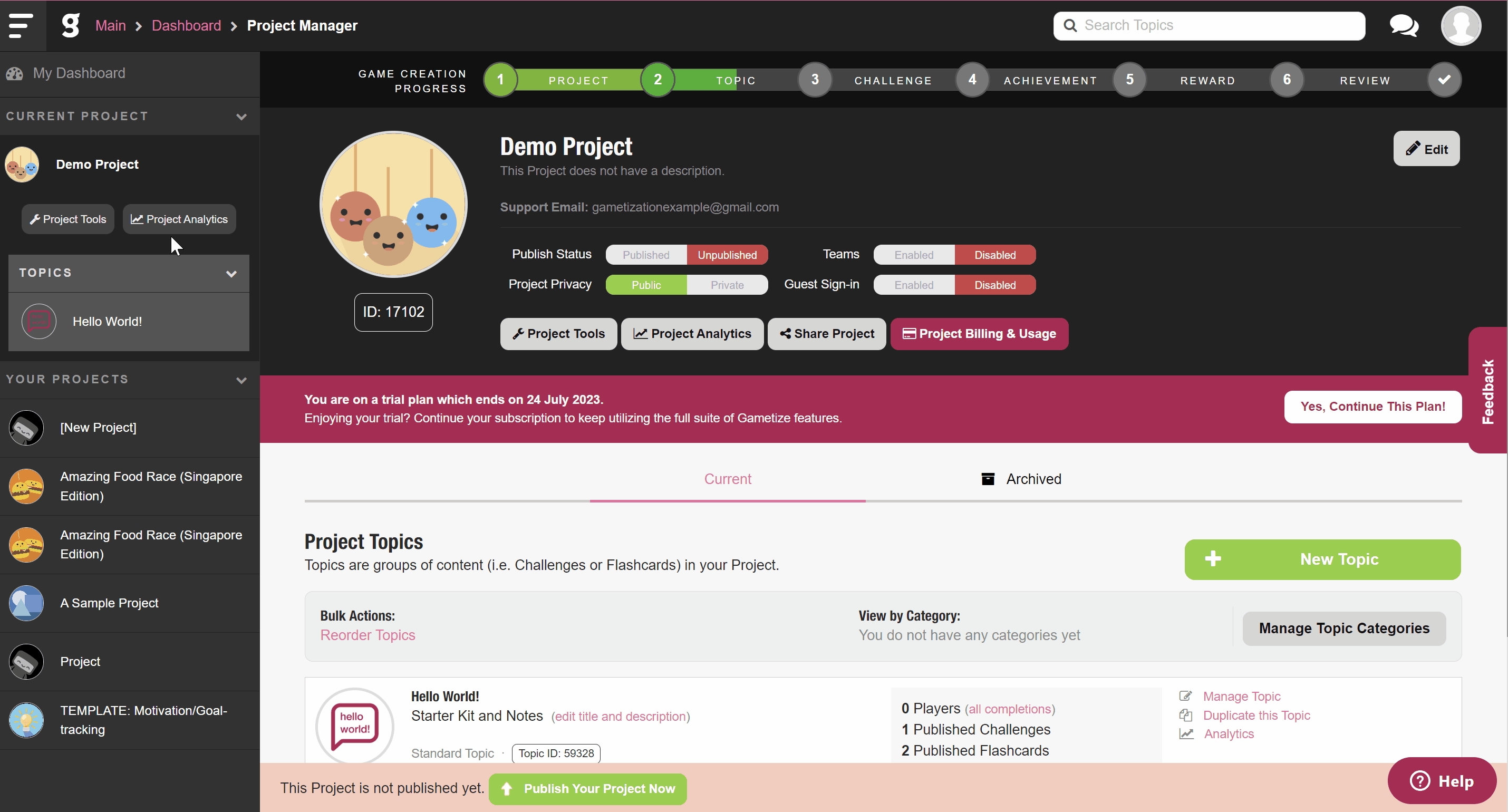 ---